Chef's Corner: Shrimp Shrimp!
Much of my early years were spent on the beaches of Henry Island, just a stone's throw from Roche Harbor in the San Juan Islands on the Washington Coast. There I would take my 14 foot aluminum boat out to the Strait of Juan de Fuca and catch all kinds of great fish. Not always a good idea, being it only had an old 5 horse power Evinrude. But I survived and ended up cooking a lot of what was taken from those sometimes treacherous waters.  I have been spoiled all my life with exceptional seafood.
So it should come as no big surprise that as a chef, I would demand only the freshest, most sustainable seafood. I loved being able to catch bottom fish, filet them, use the inedible parts for crab bait. While on my way to the crabbing bay, dragging a shrimp net behind. It's the best way I know to create a seafood feast for dinner.
I want to be part of keeping our water full of great seafood for generations to come.  Finding company's like Washington Shellfish and Pacific that are passionate about sustainability and consistently striving to improve sustainability are a match made at sea for a chef like me. It was a great decision to go watch their production, smell the salty air, eating super fresh shrimp and crab and  talking to a couple of old salty dogs and buying them a few cold ones, it was a good call.
Washington Bay Shrimp are very mild, clean, small morsels of goodness. The other shrimp Dukes serves are Wild Mexican White Prawns (all prawns are shrimp), they are larger around 20 per pound, they are firm, sweet, clean tasting. They are some of the best tasting shrimp in the world in my opinion. They are caught by day boats, on the Pacific Ocean side of Mexico. They are turtle safe. Because they are caught by small boats they are brought into shore every day, always frozen soon after they are taken from the water. This ensures freshness.
"Wild" Bill Ranniger, Executive Chef, Duke's Chowder House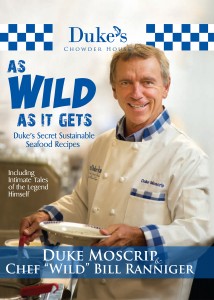 Inspired by these succulent little creatures I have written several recipes that Dukes will be featuring this month. Some of my personal favorites are Prawn Del Cabo, it is fresh avocado shrimp salad, served with sautéed wild Mexican White Shrimp, with a light citrus vinaigrette.  Chicken and Prawn Pancetta, sautéed all natural chicken breast, top with imported pancetta bacon with wild Mexican white shrimp, served on organic fingerling potatoes and fresh broiled Washington asparagus, topped with a fresh herb  caper butter, it is a flavor bomb. We are also serving N'walins Prawn Sandwich on molasses bread, blackened shrimp, caramelized sweet onions and peppers and Jarlsberg cheese, serving them with sweet potato fries. Another special that is a really good seller is a combination of Dukes Award winning, Mac and Jack Fish and Chips and Coconut Prawns. We are serving them with our house made herb tartar sauce and a honey Thai chili sauce.
Life's too short for flavorless food. Feel good about what you eat,
Chef Bill Ranniger