Duke and "Wild" Bill: The Food Dudes
At Duke's we believe that close friendships add to the spice of life. Having that friend by your side who simply 'gets you,' is what life is all about. This is exactly the kind of friendship Duke Moscrip and his executive chef, "Wild" Bill share.
The friendship these two characters have built over the years is something truly unique. It's rare for a restaurant owner and an executive chef to share a common bond that reaches far beyond the kitchen. The collaborative efforts of Duke and "Wild" Bill have put Duke's Chowder House on the map, not only as a food lover's destination but as a leader in the sustainability movement.
Collaboration & Innovation
The collaboration and continuous innovation of Duke and "Wild" Bill have helped make Duke's Chowder House the iconic restaurant it is today. As a self-proclaimed "seafood sleuth," Duke has made it his life mission to serve only the highest quality, sustainable seafood available in each of his restaurants. He has traveled the country and the world sourcing food that is grown, harvested and transported in a sustainable manner; from Wild Alaskan Halibut to grass-fed Australian beef. These standards result in better tasting food of the highest nutritional content. But how do you get these high-quality ingredients to your customers?
Enter Chef "Wild" Bill. His role as an executive chef allows him total creative power, together he and Duke have created some remarkable recipes. They call themselves the "Food Dudes," and have spent countless hours in the kitchen trying new ideas and enhancing old favorites. The Rockin' Rockfish Tacos are a popular staple on the Duke's Chowder House menu. For these tacos, the Wild Alaskan Rockfish has been personally selected by Duke for its delicious natural flavor. "Wild" Bill then added amazing personal creations, like homemade Mango Tango Chutney and Tickle Me Tequila Lime Aioli. Fresh cherry tomatoes, grated carrots and sharp cheddar cheese all work to bring a refreshing balance to the dish. The result is a flavorful twist on an old classic, made with healthy, fresh ingredients that customers feel good about eating.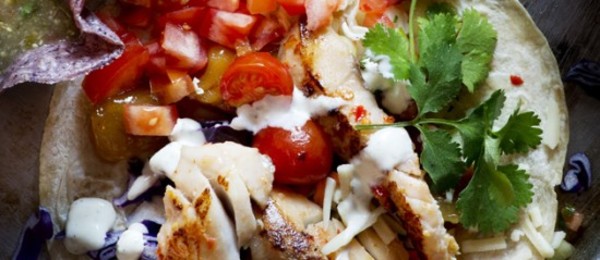 Shared Roles & The Balancing Act
In Duke's new cookbook, As Wild As It Gets, Duke tells the story of "The Leaning Tower of Seafood." This dish perfectly illustrates the friendship Duke and "Wild" Bill share. One summer, "Wild" Bill took inspiration from Italy's iconic landmark, the Leaning Tower of Pisa. He wanted to recreate it using delicious fresh seafood. This idea led to hours of Duke and "Wild" Bill in the kitchen, experimenting with flavors and techniques. Sadly, they ran into a structural problem — the tower wouldn't stay standing. It constantly fell over, no matter what they tried. Finally, "Wild" Bill scrapped the whole idea.
Until one summer day, the answer suddenly appeared. Watermelon! A sturdy base of watermelon would not only hold the tower upright but would also beautifully complement the flavors of Wild Seafood. The dish was an instant hit, both Duke and "Wild" Bill were glad they'd given it a second chance. "Wild" Bill is able to recognize when an idea for a recipe just isn't working, and Duke values this in his executive chef. What makes their friendship truly unique is their ability to collaborate, to take the essence of an idea and allow it to evolve until they arrive at something truly remarkable.
Research and Development
Duke and "Wild" Bill often go on food adventures together. They call this 'research and development,' and it is a big part of why Duke's Chowder House is such a huge success. One of their adventures began when "Wild" Bill realized that though he enjoyed the crab cakes on Duke's menu, they didn't exactly have the 'WOW' factor. So, he called Duke and announced that they needed to embark on a journey. They called it "The Great Crab Cake Quest."
The pair made up a list of the best seafood restaurants in the area and vowed to try the crab cakes at every single location. On the first night, they visited eight different restaurants, tasting the crab cakes and sampling wine at each. While the crab cakes they tried were good, they too lacked that indefinable 'thing' that would make them great.
They had the same experience on the second night of the Quest when Duke and "Wild" Bill visited six more restaurants. They agreed that while delicious, none of the crab cakes they sampled were outstanding. Duke finally turned to "Wild" Bill and said, "You know what's great about crab cakes? Crab! You know what's terrible? Cake!" And WHAM! Just like that, "Wild" Bill knew how to make Duke's crab cakes stand out.
Today, the Crab "Un" Cakes at Duke's reflect the simple lesson that Duke and "Wild" Bill learned on their Quest: don't over-complicate something that is already delicious! Using fresh Dungeness crabmeat, herbs right from the garden and simple, flavorful spice mixtures, "Wild" Bill finally created a crab cake with the 'WOW' factor he had been seeking. And he couldn't have done it without the help of Duke.
Friendship, Motivation, and Experimentation
Friendships like that of Duke and "Wild" Bill are a rarity. Lucky for us, the "Food Dudes" have been collaborating, experimenting and having fun in the kitchen for more than two decades. Out of all of that fun has come plenty of stories and countless mouthwatering recipes. While Duke is on a fishing boat in Alaska selecting the world's highest quality fish, "Wild" Bill is in the kitchen creating new house blends of spices. Their shared goal of consistent customer satisfaction keeps them motivated to constantly improve their menu while experimenting and creating wonderful dishes that support sustainable practices.
Book a reservation at one of our six locations and experience the "Food Dudes" passion for wild, sustainable seafood for yourself!