Duke's Letter to Pete Carroll
The Big Game
I'd like to take you back in time for a moment. Not very far, only to February 1, 2015. If you were in or around Seattle at this time, you'll remember what it felt like. The city was alive with excitement! Football was the talk of the town, and the Seahawks held everyone's hopes in their hands. They went into that Super Bowl game against the New England Patriots, boasting a 12-4 record from the regular season, and they were defending their title win from the year before. We were all so confident they would defeat the Patriots and keep the Super Bowl in Seattle.
Fast forward to the end of the game, and the vibe is very different.
Shock. Disappointment. Sadness.
The Seahawks were down 28-24 with two minutes remaining, and they had managed to drive the ball to the Patriots 1-yard line. 26 seconds remaining, and fans all over the city are going nuts. This is it! We're going to run the ball for a touchdown!
Instead, the coaches called for a pass. Russel Wilson threw the ball which was intercepted by Patriots rookie Malcolm Butler. The Patriots held on to their lead to win the Super Bowl, and Seattle stopped breathing.
Shock. Disappointment. Sadness. And even anger. Fans were incredibly angry with the Seahawks coaching staff, convinced that if they'd just called for Marshawn Lynch to run the ball, we would have scored a touchdown and ultimately won the game. The question hung in the air for days, vented by disappointed fans all over Seattle:
"Why didn't they give Lynch the ball?!"
No one could understand how we managed to lose.
An Open Letter to Pete Carroll
I was just as disappointed as everybody else, so I decided to do something constructive to try and help inject some positivity into the situation. I sat down and wrote an open letter to Pete Carroll, head coach and executive vice president of the Seattle Seahawks, as well as the entire coaching staff. My feeling at the time was that they needed a break from all of the emotion directed toward them by their upset fans. They needed some support.
The Seattle players famously draw support from the '12th Man', which refers to the robust fan base they enjoy here at home. The '12th Man' has become a point of pride both for players and fans and provides that extra boost of confidence to the Seattle players. They know that the '12th Man' always has their back.
I felt that the coaching staff needed their own version of the '12th Man', especially after such a devastating loss. So I introduced the '13th Man'. I thought then and still believe now, that he was exactly what the coaches needed.
In my letter, I spoke about how the '13th Man' would step up and turn the bad luck that the Seahawks were experiencing on its head.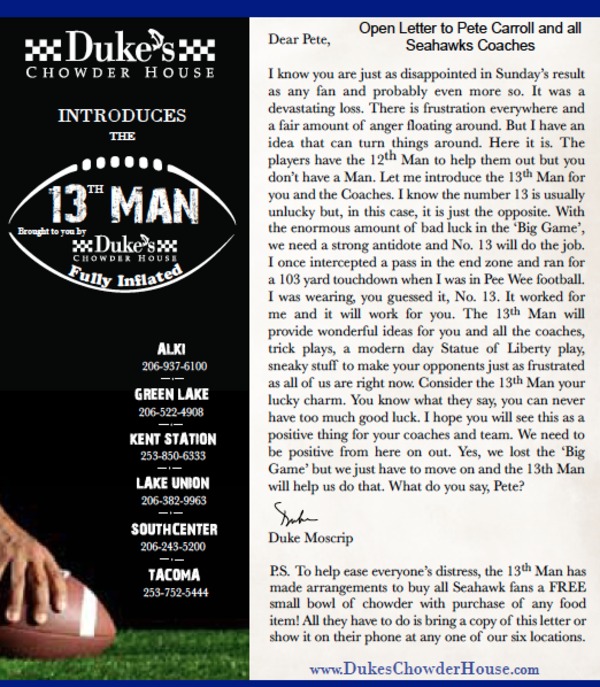 My open letter to Coach Pete Carroll and his coaching staff
"I know the number 13 is usually unlucky but, in this case, it is just the opposite," I wrote. "I once intercepted a pass in the end zone and ran for a 103-yard touchdown when I was in Pee Wee football. I was wearing, you guessed it, No. 13. It worked for me and it will work for you."
In addition, the '13th Man' would break out amazingly sneaky plays against our opponents, provide wonderful ideas to the coaching staff, and generally bring good luck to the entire Seattle Seahawks outfit. Sounds pretty good right?
I ended the letter by mentioning that the '13th Man' had arranged for a free bowl of Award-Winning Clam Chowder at any Duke's Chowder House location for any Seahawks fan that needed a little pick-me-up. My intention with the letter was to make anybody who was grieving the loss of that game feel a little bit better, including Pete Carroll and his staff, who sincerely deserved it for all of their hard work and dedication.
My Seahawks Fandom: A History
It's no secret that I love Seattle, and that includes a love of the Seattle Seahawks. I'm a football fan, no doubt, and this love affair goes back many decades. In fact, this wasn't the first time I'd written a letter to the Seahawks coach!
In July of 1999, I came across something interesting in the local paper. It seemed the coach of the Seahawks at the time, Mike Holmgren, had appeared in an article saying that the Seahawks were looking for 'bangers' for next season. Well, I sat down with pen and paper as fast as I could!
"I'm no banger," I wrote, "but I can do something better. I can throw the bomb."
I spoke at length about my time playing quarterback in Pee Wee Football and Junior High, and how my favorite play was throwing a bomb on the first play of the game. We scored every time.  Not bad for an amateur.
Basically, I wanted to play quarterback for the Seahawks. I told Mike that every time we won, I'd buy the whole team a feast of milkshakes, cheeseburgers and Award-Winning Clam Chowder at any Duke's Chowder House location. All he had to do was put me on the team. A win-win situation! The Seahawks get a great QB plus a bunch of great meals. Who could say no?
Seattle and the Seahawks
Needless to say, my dream didn't exactly come true. But I still love the Seahawks, and as a local businessman, I'm proud to support them in any way I can. This incredible city is football crazy, and it's a wonderful thing to be a part of. If I can't be a quarterback, or the '13th Man', I'm more than happy to be a part of the 12th.
Currently, the Seahawks are 1st in the NFC West, with a record of 9-4-1. We host Arizona on Christmas Eve, and play in San Francisco on New Year's Day. Not to get ahead of myself, but I'm really looking forward to watching them in the playoffs this year. Who knows? Maybe we will get a crack at Super Bowl redemption in 2017.
Seahawks fans are invited to come to Duke's Chowder House anytime. We are here to share both the pain of a loss and the glory of a win. Book a reservation at one of our six locations and bring your football fan friends! There's room for everyone at Duke's.