Duke's Patio Officially Open for Summer
At Duke's Chowder House, we have a lot of great things going for us: delicious food, friendly staff, comfortable atmosphere, and much more.
But when summer arrives in Seattle, one of the best things about Duke's is our patio(s)!
Nothing says summertime like sipping a cold beverage on a sunny outdoor patio, surrounded by good friends and good food. That's what summer is about.
Good Company
Throughout the year we meet people from across the globe visiting the Seattle area for all kinds of reasons. Some have never been to the Pacific Northwest, others may have grown up here and miss it from wherever they now live. Many come to visit children, grandchildren, or good friends. Often there's a special occasion, such as a birthday or a wedding, and sometimes folks are just tourists excited to explore the area.
Whatever the reason, we welcome those from near and far to our outdoor patios this summer. Locals know that it's a great place to hang out in the sunshine, and love bringing their out-of-town friends by for a drink and a delicious, wholesome meal.
There's something magical about sitting down to a well-cooked meal with family and friends, especially outdoors. Nothing makes a better accompaniment to good food than good company in a beautiful setting.
For example, Duke's Tacoma location on Ruston Way boasts a gorgeous deck overlooking Puget Sound. Hear the waves and sea birds as you dine in the sun, or under strings of patio lights in the evening.
Every meal at each Duke's location begins with a serving of our delicious, signature Double Sourdough Bread, inviting your table to 'break bread' with one another. A traditional custom that signals good will and hospitality, 'breaking bread' is truly the beginning of a wonderful meal filled with laughter, conversation, and love.
I am a family man, lucky enough to be a father and a grandfather, and Duke's is ultimately a family business. My son John is also my business partner, and we both take care to incorporate family values into every aspect of Duke's Chowder House operations. We know the importance of a sit-down dinner to the well-being of the entire family, especially for children, and summer break is a great time to make family dinner a priority again. The dinner table is where families reconnect, debate, converse and strengthen their love for one another. That is what Duke's is all about. We'll provide the table, cook the meal and even do the dishes; you bring the love.
Bring your friends and family to one of our outdoor patios this summer and rediscover the beauty of the dinner table while taking in the beauty of the outdoors.
Summer Eats
The Duke's culinary team has worked hard over many years to create a diverse and creative menu for our customers and it features some real winners that are perfect for sunny summer days.
Salad is a staple summer choice; light, fresh and delicious is the name of the game. Take our spin on a classic—the Blackberry Wedge Salad. A quarter wedge of crispy iceberg lettuce topped with bleu cheese crumble, savory bacon bits and sweet, fresh blackberries. Finish with a sprinkle of toasted almonds and a drizzle of bleu cheese dressing, and you've got yourself a fantastic summer salad.
Seafood is also a great go-to summer choice, and Duke's is all about seafood. We serve only 100% Wild Alaskan Salmon and Halibut, as well as sustainably sourced Wild Mussels, Clams and Prawns.
Halibut is a white fish with a subtle taste, making it perfect for adding whatever flavors you fancy. A great example is the Asian-inspired flavors in our Tempting Thai Ginger Halibut dish. The Wild Alaskan Halibut fillet is seared on a hot pan in butter and seasonings then placed atop a bowl of hot, creamy Thai coconut broth. The broth features fresh organic spinach, basil, a squeeze of lime and a hint of spice, and the whole dish is finished with a dash of toasted macadamia nuts.
I know. My mouth is watering too.
Whatever summertime dishes you crave, Duke's has a delicious option for you, one that you can feel good about eating. I personally sourced most of the ingredients we use in our kitchens, searching for the most sustainable selections available. Our dairy is hormone and antibiotic free, our eggs come from free-range chickens and our produce is grown without the use of pesticides or fertilizers. We work hard to come up with delicious, nutritious meals that will delight our customers and help to reduce our ecological footprint. I am dedicated to ensuring that future generations continue to enjoy access to wild and organic ingredients for decades to come.
Summer Drinks
As much as we pride ourselves on our food, the cocktails at Duke's occupy a special place in our hearts. Simply put, they are delicious. Affectionately called 'Duketails,' these drinks are new twists on old favorites and inspired by warm, sunny patio days.
Picture this: you are sitting on the patio at Duke's Lake Union location. Beside you, palm trees wave in a gentle breeze, and boats in the nearby harbor rock slowly in their moors. The sun is just going down, and its last warm rays wash over you as the patio lights twinkle above your head. In your hand, you hold a freshly-muddled glass of Duke's Cucumber Mojito. Perfection.
Our take on a traditional Mojito is one of our most popular summer drinks. It is quite possibly the most refreshing summer drink on the planet. This cocktail was inspired by a visit to a restaurant in Marina Del Rey. A traditional Mojito is made with rum, but I discovered that it tastes even more divine when combined with the pure taste of our Duke's Cucumber Infused Vodka.
If rum is more your style, may we suggest the summer-colored Oh Mai Tai, made with two types of rum and a splash of Cointreau. Orange and pineapple juice add the perfect balance of sweet and tart flavors, creating a sunset-in-a-glass that's as delicious as it looks.
Our Margaritas, Bloody Mary's and Mojitos are all expertly crafted by our experienced bar staff, and make the perfect accompaniment to your patio time this summer.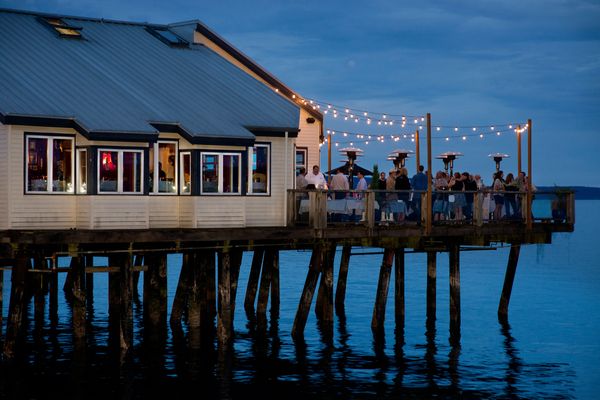 It's always a long winter Seattle, and summer is finally here! So be sure to stop by your nearest Duke's patio this summer, before the kids are back in school and the rain returns.  For more great recipes, exclusive offers and up-to-date specials join our VIP Club today!