DukeWorthy™ Seattle Sourdough
DukeWorthy™ Seattle Sourdough: A Duke's Tradition
At Duke's Chowder House, we strive for wholesome, delicious meals made from sustainably sourced ingredients. We truly believe our customers deserve the best possible dining experience, from start to finish.
That's why every meal at Duke's, big or small, begins with a serving of our delicious Double Sourdough Bread. Like everything else in our kitchens, our Double Sourdough Bread is made of the finest natural ingredients and baked to perfection for you to enjoy. But how exactly did that bread get to your table? The story begins years ago in San Francisco.
If You're Going to San Francisco…
Many moons ago, in another life, I was pursuing a career as a stockbroker in San Francisco.This is where my love affair with sourdough bread began. Almost every day I would stop by some bakery or another for a delicious slice of heaven.
If done properly, sourdough bread can be a heavenly thing. Soft, fluffy, slightly sour inside protected by a crispy brown crust, blistered by the heat of a perfectly warmed oven. I tell you; almost nothing makes me happier than that mouth-watering combination!
Needless to say, the stockbroker thing didn't work out. Neither did the San Francisco thing. But I was hooked on sourdough! So when I opened the first Duke's Chowder House in Seattle in 1977, I wanted to serve that same delicious bread to my customers. I've always had the belief that if you choose to eat at my restaurant, you deserve the best dining experience that I can possibly deliver. And that means starting every meal with a bang!
Besides, what goes better with a hot bowl of Award-Winning Clam Chowder on a rainy Seattle day than fresh baked sourdough bread? Nothing, that's what.
Meet George DePasquale
George DePasquale is one of two founders of Essential Baking Company; the late Jeff Fairhall and George started out together in 1994. George is also a San Francisco transplant – he moved to Seattle to pursue his two passions: baking and bass guitar.
George is a master baker, and Essential Baking Company is one of the few large-scale bakeries remaining that produces true sourdough bread. Many operations these days use 'sourdough flavoring' in their bread, rather than letting the dough ferment over a period of days as tradition demands. The use of sourdough flavoring is sacrilege in my book and makes me appreciate the fresh-baked sourdough delivered to Duke's every single day.
Essential Baking Company is now the largest artisan bakery in the city, and provides breads, pastries and other delicious baked items to a variety of restaurants, grocery stores and cafés across Seattle. And yet you can still find George teaching bread and pizza-making classes throughout the city, sharing his passion with others. This is why George and I have such a special partnership; we both hold onto our values, care deeply about our customers, and are entirely committed to quality.
Wholesome, Natural and Sustainable
Quality ingredients are an essential part of the philosophy at Duke's Chowder House, and we are happy to partner with those who share our values. Essential Baking Company makes our Double Sourdough using only four all-natural ingredients: Organic Unbleached Wheat Flour, Organic Malt, Salt and Water. I am strict about consistency, and Essential Baking Company is extremely reliable. Our bread is delivered daily, fresh-baked in a stone hearth oven by master bakers like George.
No meal at Duke's is complete without a sample of our famous Double Sourdough. Simply put, Essential Baking Company has become…well…essential to Duke's! Book a reservation at one of our six locations today to try a slice of Seattle Sourdough alongside a bowl of Award-Winning Clam Chowder.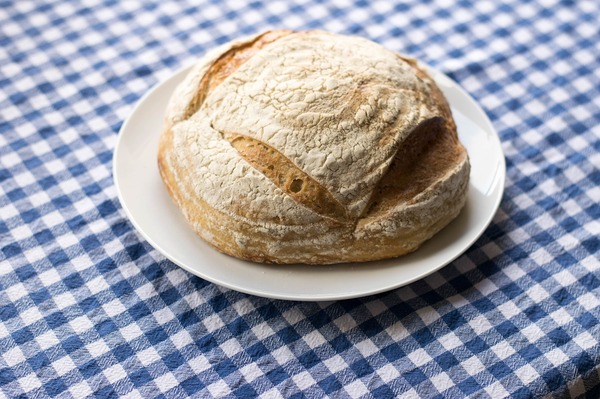 Now you can make your own Double Sourdough at home!
The following recipe comes from our baker friends at The Essential Baking Company. If you already have an active and healthy sourdough starter, you can use that in the recipe that follows. Otherwise, you'll need to get a starter going. It's not hard, but it will take about a week.
Double Sourdough Bread
Day 1: Mix 1 cup of flour and 1¼ cups of cool water in a medium-sized bowl. Mix the two ingredients just until they come together. Cover with a towel or plastic wrap and let stand at room temperature.
Day 2: Remove 1 cup of the starter and discard it. (It seems odd, but it needs to be made with the larger amounts, though in the end, only about ½ is needed.) Add ½ cup cool water and ½ cup flour to the remaining starter and mix just until it comes together. Repeat this process for days 3, 4, 5 and 6. Your starter should become more bubbly and alive day by day.
On the seventh day, it will be ready to use.
If you want to keep your starter going: On Day 7, remove a cup of the starter, but save it aside this time. This will be the starter you'll use in your bread. (If you're not going to bake, discard it.) Follow the directions from Day 2. Cover and let your starter stand at room temperature for 3 hours. Now you can put it into the refrigerator.
You'll still need to feed it about once a month (minimum), using the instructions from Day 2 to keep it alive. When it's time to feed your starter, remove it from the refrigerator and let it stand at room temperature for about 2 hours. Then follow the directions in Day 2.
Ingredients
6 cups bread flour
3 cups lukewarm water
1 tablespoon salt
½ teaspoon rapid rise yeast
1 cup of sourdough starter
Directions
If you are mixing by hand:
Combine all the ingredients in a large bowl just until it all comes together.
Turn it out on the table and knead for about 12 minutes.
If you are mixing in a mixer:
Combine all the ingredients in the bowl of the mixer, fitted with the dough hook, and mix about 4 minutes on slow, 6 minutes on fast.
Cover and let rest for 30 minutes.
Let the dough rise at room temp about 2 hours or until you can leave an indentation with your finger. The dough should rise until 1½ times its original volume.
Divide the dough in half. Gently press the gas out of each piece, and shape each piece into a ball.
Pre-heat the oven to 450º. If you have a baking stone, preheat the stone along with the oven.
With a spritzer, spray the inside of the oven every minute or so for the first 10 minutes.
Bake the loaves for 35-40 minutes or until they are golden brown.
Would you like more recipes for your own kitchen? Get your copy of our free mini cookbook.