Edible City: A Delicious Journey
Edible City: A Delicious Journey… Experience Puget Sound Culinary Culture
There are many reasons to love the City of Seattle—beautiful scenery, wonderful citizens, great football—but my absolute favorite thing about Seattle is the food.
Ask a hundred different people to define Seattle's cuisine and you'll likely get a hundred different answers. All of which will be correct! The food that characterizes the Pacific Northwest is incredibly diverse, and Duke's Chowder House is proud to showcase that diversity on our menu.
This year, all six of our locations are participating in Edible City Month, put on by the Museum of History and Industry (MOHAI) in partnership with the City of Seattle. Our culinary team has been working hard to create special menu items that will highlight the delicious food options available in our city.
What Is Edible City Month?
Mayor Edward B. Murray has officially declared April 2017 to be Edible City Month in Seattle. Together with MOHAI, the city's top restaurants and chefs invite you to celebrate Puget Sound's passion for food and culture by visiting any of the 26 participating restaurants during the month of April. Try any of the specially created menu items for Edible City Month, and become a MOHAI member for even more perks.
The Edible City: A Delicious Journey exhibit will be on display at MOHAI, celebrating the culinary roots of Seattle. This exhibit will showcase the rich history of Puget Sound's relationship to food. Learn about the origin of the Rainier cherry, and explore the life story of our iconic Pike Place Market. Edible City: A Delicious Journey will be served up as the main course of Seattle's cultural buffet during Edible City Month.
A companion Edible City book written by curator/creator Rebekah Denn is also available and will be making its rounds of the city during a book tour. Join Rebekah and MOHAI's executive director Leonard Garfield for this free event and gain a 'behind-the-scenes' look into how the exhibit came together, and the concept of Edible City Month. Pick up a signed copy of the book while you're there!
Why Seattle Food Matters
Fresh, raw ingredients harvested directly from the surrounding land and sea defines the food culture of the Pacific Northwest. This region is a confluence of many cultures, including Native American, European, Japanese, Chinese and Spanish. These diverse backgrounds are all highlighted in the dishes we choose to make. Seattle diners recognize our cultural diversity in the dishes they eat and aren't afraid to try new things.
The proximity of the ocean means that fish and shellfish have always played a major role in Seattle cuisine. Chowder is especially popular here in our windy, rainy city, and Duke's Award-Winning Clam Chowder sits as the reigning chowder champion. Use your Edible City journey as an opportunity to stop by for a bowl!
At Duke's, we embrace the food-adventurer spirit; we are always looking for creative new ways to surprise and delight our customers. And I am constantly searching for the finest sustainable ingredients to introduce to our customers. That's where my adventure lies—sourcing high-quality, wholesome food from our region and around the world—because Seattle diners deserve the best.
Duke's: Your Edible City Destination
All six locations of Duke's Chowder House are participating in the Edible City Month celebration, and we are excited about it! Our culinary team has been working extremely hard these past months, looking to come up with a unique dish that will showcase both our regions' culinary tastes and our Duke's values of delicious, sustainable food.
Without further ado, we are pleased to present our newest addition: Sohai MOHAI Parmesan Prawns! Take a handful of fresh-caught Wild Mexican Prawns, encrusted with Parmesan and asiago cheeses, and drizzled with a delicious lemon beurre blanc. Serve with organic baby red potatoes and fresh organic zucchini, and voila! This dish is gluten free and will be available for the entirety of Edible City Month.
Are you an official member of MOHAI? Members receive a free order of Coco Loco Prawns with the purchase of any other food item! Also made with Wild Mexican Prawns, fresh from the Gulf of California, the combination of shaved coconut and homemade sweet chili sauce is enough to drive you crazy!
Visit any of our locations during Seattle Restaurant Week (April 2-6 & 9-13) and save the receipt for $2 off your ticket to see the Edible City exhibit. Collect 6 receipts from participating restaurants—or one from every Duke's location!—for a free adult admission.
Members are also invited to Industry Night at the Museum, a special members-only viewing of the Edible City: A Delicious Journey exhibit. There will be a book signing by author and curator Rebekah Denn, a sneak-peek of upcoming MOHAI exhibits and more!
Shared Goals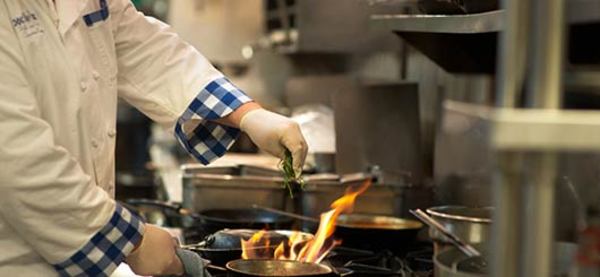 Duke's is proud to be counted among the Edible City Tour participants and to help showcase the incredible food available here in Seattle. We are so lucky to have access to fresh, wild ingredients produced right here in our own backyard. The exhibit aims to highlight these wonderful products, a goal that Duke's Chowder House shares. That's why I source as many high-quality ingredients from local providers as possible, always looking for the most sustainable option.
Seattle's own Essential Baking Company has been working with me to make famous Seattle Sourdough bread since 1977. Essential Baking Company is the largest artisan bakery in the city and bakes Double Sourdough Bread fresh for all six of our locations every day in their custom hearth-ovens. Made with wild yeast and USDA organic ingredients, no Duke's meal is complete without a sample of our famous Double Sourdough.
We are also proud to source mussels from Penn Cove Shellfish, a family-owned and operated mussel farm just north of the city of Seattle. They have the distinction of being North America's oldest operating mussel farm, as well as the largest in the United States. Penn Cove mussels are known globally for their sweet flavor and perfect texture, having collected many awards from international taste competitions. Sustainably harvested and efficiently transported, our customers know they are getting the best when they eat mussels from Penn Cove.
These providers and many others do the Puget Sound region proud when they produce top-quality products. They are a part of the rich culinary fabric of our region, and we are delighted that Edible City Month gives us a chance to help shine the spotlight on them.
Book a reservation at one of our six locations during Edible City Month, and remember:
Try our specially-created Edible City Month Dish, Sohai MOHAI Parmesan Prawns
MOHAI Members receive a free order of our popular Coco Loco Prawns with purchase of any food order (please present member card before ordering)
A receipt from Duke's Chowder House gives you $2 off a ticket to the Edible City: A Delicious Journey exhibit
Six receipts from Edible City Month participants gets you one free adult admission to the exhibit
This month, celebrate the food we all love here in Seattle. Join us for a meal today and delight in the cuisine that makes us who we are.