I'm just going to come right out and say it: I love being a dad.
It's a magical role in life, a perpetual learning experience that teaches you about love, patience, doing what's right and living in the moment.
Father's Day is just around the corner, and it has me thinking about the 'dads' in my life; how they have taught me and shaped me into the person I am today. That's a dad's job after all, to provide their children with the tools they need to make it in the real world, all by themselves. I'm happy to say that my dad did a great job, and I've tried my best to pass the same values he taught me on to my own children.
I am a grandson, a son, a father and a grandfather now, and I'm proud to carry those titles. They are a big part of who I am, and I wouldn't be the same person without them.
My Grandfather: John Cox
Grampa Cox was a very special guy. I used to drive him around town for hours, bringing him to friend's houses where he would play cards. He was a quick player and usually took everyone's money, with a wink and a smile. He also had quick feet and was one of the best dancers I knew. No one could hold a candle to his tolerance for alcohol either; he'd drink you under the table while dancing on top of it!
He was definitely a character, and he looked it. When he was a kid, he broke his arm doing some crazy stunt. But he didn't tell his parents because he was afraid of getting whipped. So, it healed into a permanent bend. It boosted his 'tough guy' persona, and he never let it bother him.
Without Grampa Cox, Duke's Chowder House would not be the success it is today. He loved to cook, and his specialty was clam chowder; he used to brag that it was the best in all of New England! Now, I remember that chowder as being rather brothy, and with too much clam taste for my liking. But his unwavering confidence in his own abilities has inspired me my entire life.
In fact, Grampa Cox inspired me to try to actually make the best chowder around. His original recipe, along with a few tweaks here and there, is the basis for Duke's 3-Time Award-Winning Clam Chowder recipe. Without it, we wouldn't have gained our reputation as THE place in Seattle for good chowder. And we wouldn't have this incredible platform from which to promote sustainable food options. So, thank you Grampa Cox, for everything.
My Father: Duke Sr.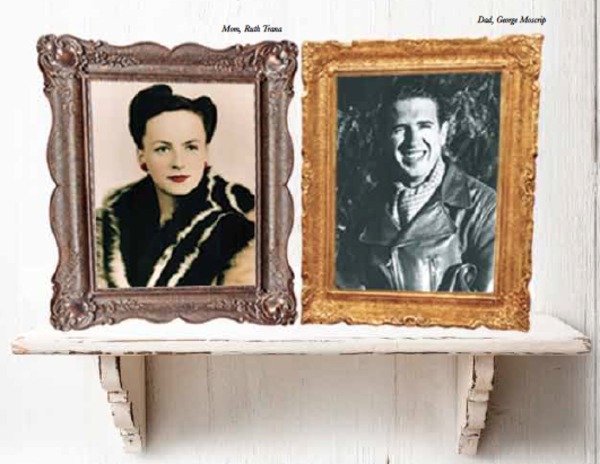 How do you thank your father for everything he has given you? Without my dad, I wouldn't be where I am today.
My dad's real name was George, but he earned the nickname Duke because he was a flashy dresser; a leather cap and jacket combo along with a white neck scarf was the typical outfit of pilots back in WWII. He was what I would call a closet intellectual as well, a smart guy that didn't advertise it.
But his real claim to fame was his coaching. To this day, he's the best coach I've ever had. Kids loved him and he loved them right back. His half-time talks were the stuff of legends! He was an excellent motivator, knowing exactly when someone needed a good kick in the rear to make them get moving. Once, when I was playing a less than stellar basketball game in seventh grade, my coach/father grabbed me by the jersey at halftime, looked me straight in the eyes and said, "Moscrip, I expect more of you."
At that moment, I knew that I could be good at anything if I put my mind to it. He instilled a confidence in me. He allowed me the freedom to become as talented as I could in everything I aspired to throughout my life; my forever running engine and constant inspiration is a testament to his legacy.
My Children, My Inspiration
I am incredibly lucky to have two wonderful children, each with their own unique qualities and talents. Without them, I would be a different person. They have taught me the true meaning of family, and I am forever grateful to them for that.
My daughter Amy shares my entrepreneurial tendencies, and grabs onto projects like a dog grabs a bone! Her determination is a constant inspiration to me. And her husband, my son-in-law Kurt, is just a great guy. He's got great cooking skills, is a wonderful father, and has been promoted to fire chief in his fire department.
My son John doubles as my business partner at Duke's Chowder House, and I couldn't be happier. He and I make a great team, and his vision has enhanced the business in ways I never knew were possible. Jamie is his wife, my hilarious daughter-in-law; family dinners just wouldn't be the same without her sense of humor! Plus, she has a knack for gift-giving that makes Christmas shopping a breeze.
I am happy to say that I am friends with my children; they're great fun to hang out with, and they are kind enough to include me in all of their family activities. Whether it's dinner with just the five of us or taking the grandkids on a day trip, we often do things as a family. These times are precious, and I am thankful for them.
My Grandchildren, My Motivation
What can I say about being a grandfather? It is by far my most important job. I am hopelessly smitten with my four grandkids, and can't wait to watch them grow up into their own unique, wonderful personalities.
Hannah loves horses and is an incredibly generous person. Hudson is an athlete (like his grandpa!) and a natural comedian. Meanwhile, Elsa is a born leader and tends to reject the rulebook (again, like her grandpa!). And finally, Lauren; a girly-girl for sure, but with a wicked mind for numbers!
These kids are smart, funny, and they are the future. My grandchildren represent my most important inspiration; they're the primary driving philosophy behind Duke's Chowder House. They are the reason I work so hard to source sustainable seafood, and other ingredients; I will do everything I can to ensure that they, and generations after them, have access to the same wholesome food that we do. I will not stand by and watch a precious resource like Wild Salmon become a thing of the past. My grandchildren deserve fresh, Wild Seafood for their entire lives, and so do their grandchildren.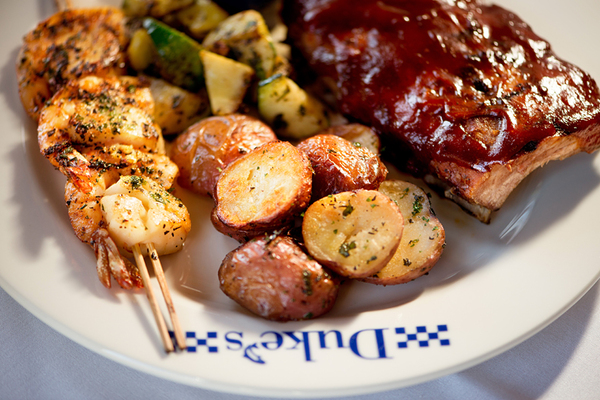 Sunday, June 18 is a day to celebrate fathers; whether you have one, or are one, our dads deserve recognition for their role in our lives.
Say thank you by treating Dad to a delicious meal of 100% Wild Alaskan Salmon, or fresh Wild Mexican Prawns, paired with an exceptional beverage. This month, we are featuring a Classic Mint Julep cocktail made with Michter's Rye, as well as Bale Breaker Field 41 Pale Ale beers. Our wine feature is Emmolo Vineyard Sauvignon Blanc and Merlot.
Book a reservation at one of our six locations for Father's Day, as tables go fast! Plus, join our VIP Club and be the first to know about upcoming specials, receive secret seafood recipes and limited time offers!