Penn Cove Ecosystem: Amazing Mussels
Mussel Misconceptions
I used to think mussels weren't fit to eat. Penn Cove changed my mind forever!
I'm not too proud to admit it; I was once opposed to mussels in general. I had an image of them as unappealing shellfish that clung to creosote pilings under piers. In no way did I view them as a succulent shellfish.
How wrong I was!
My good friend Peter Jefferds changed my mind in 1977. A couple of years earlier he had established his own mussel farm just north of Seattle.  On that fateful day, he brought me a bucket of fresh mussels to try. Peter had been experimenting with a new farming method which involved growing mussels on ropes.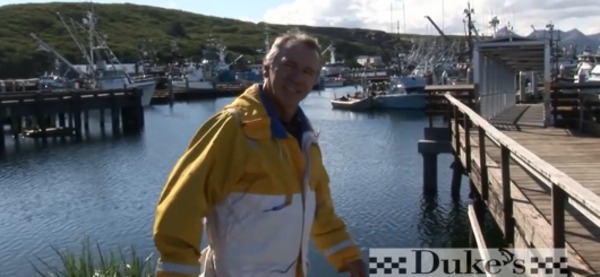 I could not believe the incredible flavor those mussels had! Since that day, Penn Cove Mussels have been on the menu at Duke's. Today they are still a family-operated business, and they continue to provide unbelievably tasty mussels.
Origin Story
As I mentioned, Peter Jefferds established Penn Cove in 1975. The cove itself sits on Whidby Island, a picturesque slice of land just off the coast of Coupeville, Washington. Peter had studied a new mussel farming method while traveling through France and wanted to try it at home in America.
He started Penn Cove with a simple mission: to provide the finest sustainable shellfish on the market. This is something that Peter and I had in common; we both focused our careers on sustainable food long before it was fashionable to do so.
Today, the farm is owned and operated by Peter's sons Ian and Rawle, along with Peter's wife Karen and a dedicated crew. Penn Cove now has the distinction of being North America's oldest operating mussel farm, as well as the largest in the United States. Their mussels are known globally for their sweet flavor and perfect texture, having collected many awards from international tasting competitions. In addition, the farm also produces Mediterranean Mussels, Manila Clams, and Pacific Oysters.
Why are Penn Cove Mussels So Good?
The secret lies in a perfect blending of ideal conditions. First, the geographic shape of Penn Cove itself plays a major role in this story. It is designed by nature to perfectly capture fresh snowmelt from the nearby Cascade Mountain Range. Many rivers pour clear mountain water directly into the cove, resulting in mineral-rich seawater for the mussels to thrive.
Second, the Olympic Mountains create something called a rain shadow that covers Whidby Island. This occurs when a mountain range protects a certain geographical area from rain-bearing winds. Because of this rain shadow, Penn Cove receives more sunshine on average than most other areas in Washington State. The result? A thriving population of wild plankton on which mussels and other shellfish feed.
These unique conditions combine to create a perfect ecosystem for mussels to grow. When these naturally occurring resources are blended with the Jefferds family's superior farming techniques, we end up with the most delicious mussels in the world! Seriously; they've got the awards to prove it.
Farming At Penn Cove
Since its inception in 1975, Penn Cove has farmed their mussels using a unique method with roots in France. Strands of rope are suspended from rafts in the water, somewhere between 900 and 2500 lines per raft. Mussels attach and grow on these 'mussel lines', which yield approximately 50 lbs of mussels per line. The entire process, from fertilization to harvest, takes about 14 months. The farm operates an ongoing rotation from juvenile mussels to ready-to-harvest, meaning fresh product is available year-round.
The Penn Cove operation has expanded over the years, resulting in two separate locations; the original farm in Penn Cove, and another in Quilcene Bay, located on the Olympic Peninsula. Together they harvest around 2 million pounds of mussels every year! The Jefferds have developed a highly-efficient distribution system enabling them to deliver mussels directly to my restaurants within 24 hours of harvest from the water. It doesn't get much fresher than that!
About the Mussels
Penn Cove Mussels are the gold standard in terms of taste. As I mentioned, awards from international taste competitions have been bestowed upon Penn Cove Mussels since the farm's infancy and their reputation is celebrated around the globe. They are typically 2.5 to 3 inches in length, with a firm texture and an unbelievably sweet flavor. Mussels typically spawn in early spring, but Penn Cove ensures a fresh harvest is available year round. Reaching maturity in just over a year, the mussels boast a thin shell with a full meat yield. They are then ice-packed into 5, 10, or 25 lb orders, with about 25-30 mussels per pound, and shipped to satisfied customers around the world.
Environmental Impacts
Penn Cove never feeds or fertilizes their mussels with artificial nourishment, simply because they don't have to. Penn Cove is an ideal place for mussels to grow and thrive due to the unique, natural conditions. Even better, mussel farming actually has a positive impact on the surrounding marine environment! It contributes to a healthy ecosystem and habitat for other species.
The Monterey Bay Aquarium has classified farmed mussels and other shellfish as "Super Green" foods. This means they're not only great for human health, but their production causes no harm to the environment.
Low in fat, cholesterol, and calories, while being high in essential minerals, means shellfish are more popular than ever with our health-conscious customers. At Duke's, we have been proud to offer Penn Cover Mussels on our menu since 1977. One of our most popular dishes is Mighty Mussels 'El Duque.' I've included the recipe below, so you can enjoy delicious Penn Cove Mussels with your family at home. Or Book a reservation at one of our six locations today and allow us to serve you!
Mighty Mussels 'El Duque'
Serves 2 as an 'appeteaser'Ingredients1 tsp extra virgin olive oil1 tsp small diced fresh garlic1 Tbsp Roasted Garlic Cloves14 Mussels de-bearded¼ cup heavy whipping cream¼ cup Garlic Lover's Butter, plus1 Tbsp for bread¼ cup North by Northwest Seafood

Chowder Base

1 Tbsp small diced fresh organic basil

leaves, stems removed

½ tsp crushed red pepper

1 slice Essential Baking Company

Rosemary bread

Directions

Heat olive oil on medium-high heat and briefly
sauté garlic and Mussels (about 3 minutes). Do not brown garlic.
Add cream, garlic butter, North by Northwest Seafood Chowder Base, basil and crushed red pepper. Boil uncovered until Mussels are just open and sauce has reduced by one-third.
Meanwhile, toast, grill or broil Essential Baking Company rosemary bread and brush with Garlic Lover's Butter. Cut in quarters.
Serve Mussels in a bowl with an extra bowl for the empties and bread on the side for dipping. Enjoy!