Summer is here, and Duke's has the food and drinks you need to kick it off right!
With the changing of the seasons comes exciting new specials at all six of our Duke's locations in and around the Seattle area. Join us to celebrate the warm summer days and beautiful summer nights here in the Pacific Northwest.
The Classic Mint Julep!
At Duke's Chowder House, our bar staff takes pride in crafting beautiful and delicious cocktails that you'll return for again and again. Whether it's a perfectly made favorite or a new twist on a classic, we strive for creativity in every glass.
Celebrate summer with a delicious Traditional Mint Julep. This drink became famous in 1938 when the Churchill Downs began serving it for 75 cents in a souvenir cup.
We honor the origins of the Mint Julep by making it with Michter's Rye Bourbon, a Kentucky distillery with a reputation for quality. Their bourbon combines perfectly with sugar, simple syrup, and fresh muddled mint to create a Traditional Mint Julep, which we serve in a customary pewter cup.
Perfect for a sunny patio, our Mint Julep is sure to impress. Hurry in for a taste!
Drink Local: Washington Wines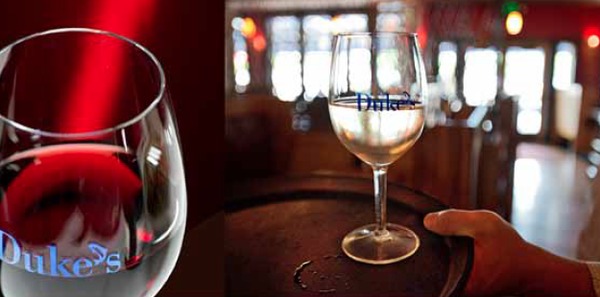 Almost nothing beats a good glass of wine on a warm summer evening, perfectly paired with a delicious meal and good company.
Consider a refreshing Grenache or Chardonnay from Sparkman Cellars right here in Washington State.
Sparkman Cellars is in Woodinville, Washington and was launched in 2004 with a focus on working with the finest raw ingredients this planet has to offer. The winery has been named one of Wine Spectator's Rising Stars and Wine & Spirits' Top 100 Wineries in the World.
Share a glass or bottle with a loved one or a group of friends today!
A Tall, Frosty Glass of Summer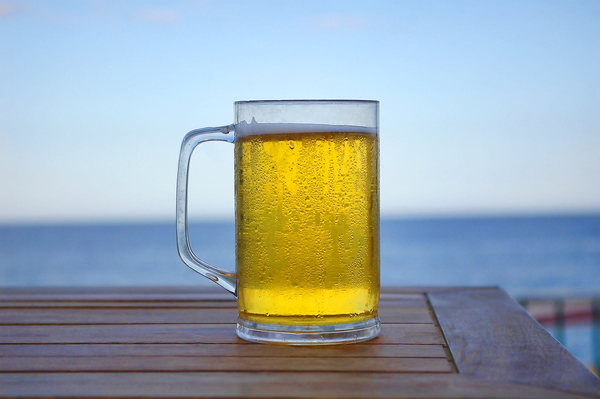 Picture it: you, on a patio, in the sunshine, with a tall, cold glass of beer.
How do you feel? Good? Great!
Come down to Duke's for a little summer therapy of the cold beer variety. Our feature beer is by Bale Breaker Brewery, located in the nearby Yakima Valley. Their Field 41 Pale Ale has won numerous awards, including the Pale Ale Category Winner of SIP Northwest Magazine's Best of the Northwest in 2014. They have also been featured in DRAFT Magazine and won the Silver Medal in American Pale Ale at the 2014 Washington Beer Awards.
Bale Breaker is another family owned and operated business, finding success with its sibling team of owner-operators. Descended from a historic line of hop farmers, Patrick Smith, Kevin Smith, Kevin Quinn and Meghan Quinn know their ales.
While the Field 41 has a strong hoppy aroma, its taste is refreshingly light and 'perfectly sessionable.' Come on in and soak up the summer sunshine with a frosty pint!
Meals Inspired By Summer
At Duke's Chowder House, we have something on our menu for everyone, including the summer-lover. Whether you're looking for a light, delicious salad or some creative summer flavors to jazz up your meal, we've got you covered. Here are a few of our summer favorites!
This salad is great, either as an entrée or as a delicious appetizer to share. It was inspired by a dish at Shuckers, the famous restaurant located in the Fairmont Hotel. Its secret ingredient? Tarragon.
The perfect hidden flavor complements our marinated Wild Mexican Prawns, alongside house-made Pico de Gallo, fresh avocado, bleu cheese and delicate Dungeness crab meat. Toss with Napa cabbage and iceberg lettuce, then drizzle with our special Ocean Fresh dressing, and you have a winning summer salad!
Fish tacos are a staple summer dish, and this one never disappoints! Dusted with our special Blackened Spice Blend, the fish is flash-fried in clarified butter until crispy and perfectly cooked. Then, it's layered into our special Blueberry Flour Tortillas along with house-made Pico de Gallo, Tequila Lime Aioli, fresh avocado and delicious Crunchy Slaw. Finish it off with a touch of fresh lime and she's ready to eat!
Served hot, savory and with unmistakable flair, this Taco dish is sure to please even the toughest fish-taco critic.
This simple, delicious dish was inspired by a dream that I had (I often dream of delicious food, it's my thing). I woke up wanting to combine blueberries and goat cheese into a dish but was stuck on how to pair it. Finally, it hit me: salmon! My favorite food in the world, Wild Alaskan Salmon, has the perfect taste to complement the sweetness of preserved blueberries along with the creamy texture of pure goat cheese.
A Wild Alaskan Salmon fillet is broiled for 6-8 minutes until flaky and pink, and then topped with two rounds of creamy, soft goat cheese. Once the cheese has melted, it's topped with blueberries that have been briefly sautéed with orange liqueur and fresh basil. With extra blueberry sauce on the side for dipping, you will go crazy for these incredible summer flavors!
Summer Lovin'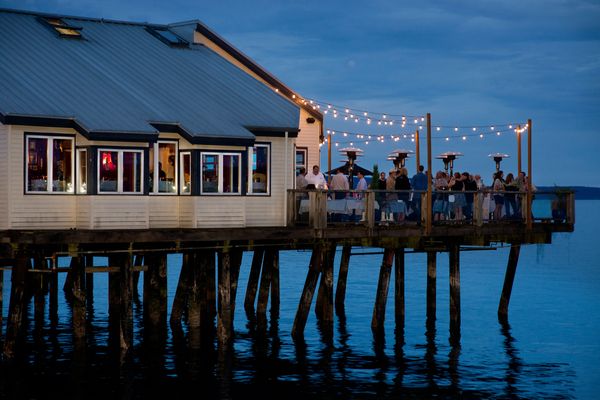 At Duke's Chowder House, we love summer. It's one of our favorite seasons! We open up our patios and invite in the sunshine. Stop by today to try a new drink and indulge in a delicious summer meal. Don't forget to join our VIP Club to get secret seafood recipes, summer features and special offers right to your inbox!