Wild Alaska Scallop Provider's Sliders: Super Bowl Sunday Will Never be the Same
Just saying the words gives me a thrill: Super Bowl Sunday. This is by far my favorite Sunday of the year! At my house, the day is dedicated to football, friends, and good food.
Food is extremely important to the success of a Super Bowl party. We all know the classics – nachos, chili, chicken wings, chips and dip, sandwiches – and they are all great. But let's be honest; they're a bit predictable. At Duke's Chowder House, we like to be different. Adding new twists to old favorites is one of our specialties! So, I'm here to help you take your Super Bowl party menu to the next level. My secret?
Amazing seafood
Smoked salmon, garlic prawns, even crispy delicious crab cakes! Adding seafood appetizers to your buffet table brings a new dimension of flavors to the party, and often is the dish that your guests remember for months, even years! I've got a repertoire of seafood dishes that are sure to please, but one in particular never fails to impress: Wild Alaska Provider's Scallop Sliders.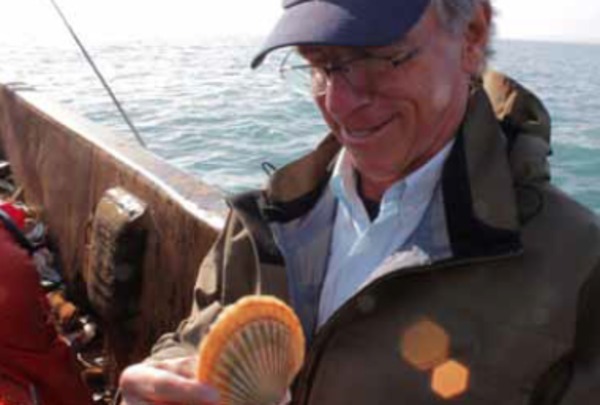 My love for scallops was not truly realized until I'd had the Wild Alaska Weathervane Scallops harvested by Jim Stone and his team.
Origin Story: Duke's Scallops
I stumbled upon these incredibly delicious Alaskan Weathervane scallops by pure chance. Executive Chef "Wild" Bill and I were on one of our frequent 'research and development' missions, on the hunt for delicious ingredients to bring into our kitchens at Duke's. The coastal town of Ballard was hosting a waterfront seafood festival, and Bill and I were right there, trying every dish we could get our hands on.
This is where we met Jim Stone, his wife Mona, and the crew of the M/V Provider, a 124′ fishing boat in Alaska. These folks were serving pan-seared Weathervane scallops to the crowds, and Bill and I were happy to give them a try.
All I could say was, "Wow!"
The fresh, sweet taste immediately impressed me, and right away I was determined to serve them at Duke's. This was the beginning of a beautiful relationship with Jim and the crew of the Provider. The next thing I knew, I was flying up to Yakutat, Alaska and climbing aboard the boat myself. I didn't just want to have the best scallops on the menu – I wanted the details. Captain Tom Minio and his crew were gracious enough to teach me everything they knew about collecting, processing and transporting their delicious cargo.
It's important to me that we develop a stable ocean-to-table journey for the seafood we serve at Duke's, and our scallops are no exception. Every single scallop is cleaned, sorted, boxed and frozen within four hours of capture, and they are fished in a sustainable manner. This all adds up to the sweetest, freshest tasting scallops I've ever had, and something I can be proud of serving to my customers.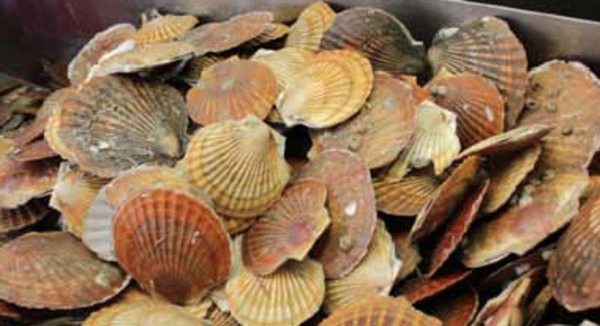 Sweet, salty and incredibly fresh, these scallops taste like no other!
Scallop Sliders – Amusement for your Mouth!
Of all my trips on the Provider, one, in particular, stands out for me. This was the trip when I finally got up my courage and ate a raw scallop, straight out of the ocean! The sweet, salty freshness of it was incredible and surprising. And the immediate freezing process the scallops undergo preserves that freshness until they reach your plate (cooked, of course).
There's a French term used to describe small appetizers that delight the senses – 'amuse bouche', which translates to 'mouth amusements.' Chef "Wild" Bill and I wanted to create a dish that would showcase the delicious flavor of Jim Stone's Alaskan Weathervane Scallops – and delight our guests. The end result is the Wild Alaska Provider's Scallop Sliders.
This dish never fails to impress, and that's why it makes such a great addition to your Super Bowl Sunday menu. Your guests will be delighted by the natural flavor of scallops, enhanced by simple ingredients such as avocado, sourdough bread, and extra virgin olive oil.
Up your food game this game day! Find the recipe for Duke's Wild Alaska 'Provider's' Scallop Sliders from my latest cookbook, As WILD As It Gets, below, or come and enjoy Super Bowl Sunday at one of our six locations and let us do the cooking for you. Good food, good friends, and good football – that's the recipe for a great Super Bowl Sunday.
Duke's Wild Alaska Provider's Scallop Sliders
Ingredients
1 slice (crostini size) from a loaf of Essential Baking Company Sourdough Bread
1 Alaska Weathervane Scallop (size 10 to 20 Scallops per lb)
pinch Duke's Ready Anytime Seasoning
½ tsp extra virgin olive oil
⅛ avocado, sliced thin and fanned
1 tsp Sinful Citrus Vinaigrette
1 tsp Dukecumber Pico de Gallo
Directions
Cut a ¼ inch-thick slice of Essential Baking Company Sourdough Bread.
Cut in half and grill in olive oil on both sides until crispy.
Season Scallop with Duke's Ready Anytime Seasoning.
On a flat griddle, heat olive oil. (Oil needs to be hot for the
scallop to obtain that golden brown color.)
Sear Scallop on both sides until caramelized (about 1½ minutes per
side).
Place fanned avocado on grilled bread and drizzle with Sinful Citrus
Vinaigrette. Add Dukecumber Pico de Gallo and top with Scallop.