Searching for the Best Seafood in Puget Sound?
Enjoying Duke's Seafood's 100% sustainable seafood, award-winning chowder, grass-fed beef, and many other options are now available any way you like it. Dine outdoor on our spacious patios or indoor in a comfortable, safe setting. Order for pick up or have Duke's Seafood delivered.
Any way you like it, we're eager for you to join us at any of our seven locations around the Sound!
Restaurant Changes Due to New COVID Restrictions
With the new COVID restriction on indoor dining, please continue to support us by dining outdoors in our cozy spaces (details below), by takeout and online ordering, delivery with DoorDash and Grubhub, plus our popular weekly meal kits. We appreciate your continued support and look forward to seeing you soon!
Click on the buttons below for pickup and delivery options.
Outdoor Dining available at the following Duke's Seafood locations:
Duke's South Lake Union is open for outdoor dining on our covered, heated deck with 11 tables.
Duke's Southcenter is open for outdoor dining on our covered, heated deck with 10 tented tables.
Duke's Green Lake is open for outdoor dining under a temporary heated tent with 9 tables.
Duke's Tacoma is open for outdoor dining under a temporary heated tent with 9 tables.
Takeout, Delivery and Meal Kits are available at the following restaurants:
Bellevue/Lincoln Square, Bellevue
Green Lake, Seattle
South Lake Union, Seattle
Southcenter, Tukwila
Ruston Way, Tacoma
All Duke's Seafood locations will operate under a limited menu, featuring your favorites and our best options for takeout and delivery.
Unfortunately, Duke's Seafood's Alki Beach and Kent Station locations are temporarily closed until further notice.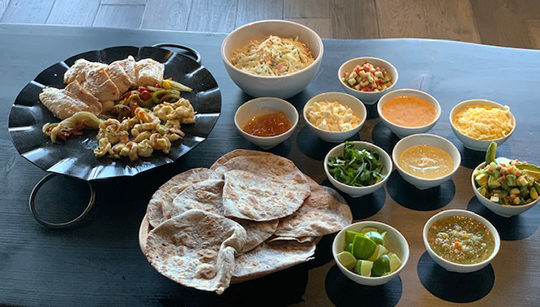 New Take Home Meal Kits!
This week's meal kits are sold out. Order next week's meal kit from Friday, December 4th through Wednesday, December 9th
Now you can become a Duke's Seafood chef with our exclusive meal kits. Rotating family meal options each week and other take-home options available for pick up on Thursday every week. Portioned and prepared ingredients plus cooking instructions are included to make a Duke's Seafood feast at home.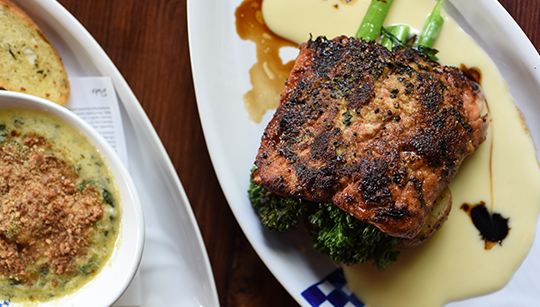 Order Online Takeout for Pickup
Order lunch or dinner online today and pick up at your neighborhood Duke's Seafood location. Try one of our Award Winning Chowders or indulge in one of our many 100% Sustainable Seafood choices. We'll have it hot and ready to go. Oh, and all of our take-home meal containers are compostable. It's Duke's Seafood . . . of course we are sustainable.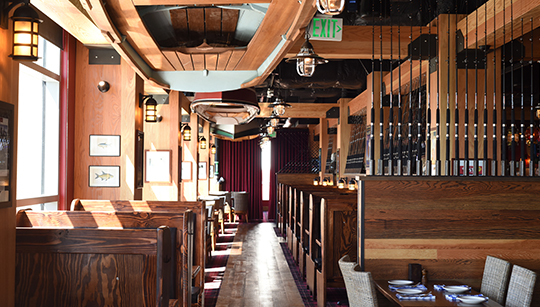 Duke's Seafood Installs Pathogen-Filtering System to Kill COVID Particles
Every Duke's is now fitted with a new air filtration system using needlepoint bipolar ionization (NPBI™) technology to reduce COVID airborne pathogens by 99.4%. When we discovered a technology that goes above and beyond the required levels of air filtering, we knew we had to have it.
"I personally guarantee that you'll enjoy your meal, or you don't pay."
– Duke Moscrip