WELCOME TO DUKE'S SEAFOOD & CHOWDER
WELCOME TO DUKE'S SEAFOOD & CHOWDER
WELCOME TO DUKE'S SEAFOOD & CHOWDER
WELCOME TO DUKE'S SEAFOOD & CHOWDER
WELCOME TO DUKE'S SEAFOOD & CHOWDER
WELCOME TO DUKE'S SEAFOOD & CHOWDER
WELCOME TO DUKE'S SEAFOOD & CHOWDER
WELCOME TO DUKE'S SEAFOOD & CHOWDER
WELCOME TO DUKE'S SEAFOOD & CHOWDER
Duke's – Innovating in Puget Sound for 40+ Years
From our wild and carefree beginnings to wild seafood and crazy good food.
Duke Moscrip, founder and owner of Duke's Chowder House and Duke's Seafood & Chowder, opened his first restaurant in Seattle in 1977 in lower Queen Anne, serving an eclectic mix of food and using cigar boxes as their cash register. It's come a long way since then, but the character and welcoming style of our restaurants remain uniquely Duke.
Today, all seven (and soon to be eight) locations in Puget Sound serve up saucy Copper River Salmon (the only salmon we serve), Duke's famous Crab "Un" Cake (made of 80% crab), and "appeteasers" that kick off each meal with a punch of flavor. Our famous clam chowder won the Seattle Chowder Cook-Off three years in a row. In fact, we won so often that the judges asked us not to compete again! Besides delicious, award-winning food, we offer great cocktails. Our Bloody Mary is the best in town—loaded with prawns, celery, and olives, many consider it a meal. Another favorite is our Woodford Reserve Manhattan crafted with our own special Bourbon that we blend ourselves in Kentucky.
The debate surrounding wild and farmed salmon is complex and often contradictory.
Read More
I had a conversation with a guest at our Bellevue restaurant the other day that shocked me. He didn't know about our frequent diner program!
Read More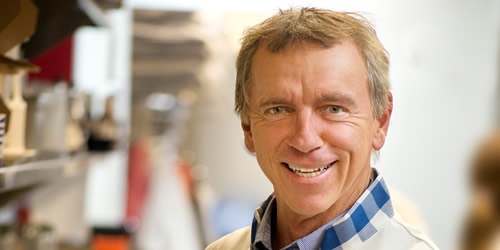 Duke On The Air!
Duke Moscrip has many stories from his 40+ years running Duke's. Many are told on his radio ads. Take a listen by clicking above. Be sure to use the arrows to hear more than one. They are great!
Join us every day for Happy Hour (from 3pm – 6pm and 9pm to closing), lunch or dinner. Oh, and don't forget, every bottle of wine is half price every Monday at every Duke's location.
Duke's doesn't take any chances when it comes to your heath, which is why all of our food is chemical-free, antibiotic-free, hormone-free, GMO-free, trans-fat-free, nitrate-free, and contains no high-fructose corn syrup (right down to the maraschino cherry on top). Our focus is fresh-tasting, organic, cage-free, and 100% sustainable food. So, come relax at your nearest Duke's, where we serve it "just the way you like it."
"I personally guarantee that you'll enjoy your meal, or you don't pay."
– Duke Moscrip