Celebrate 12 Days of Valentine's at Duke's; One Day is Just Not Enough
SEATTLE, WA (Jan. 24, 2019) — Duke's Seafood & Chowder, serving sustainable seafood for more than four decades, today announces its 12 Days of Valentines with dinner and wine specials available from Feb. 7th – 18th. Recognizing the challenge and pressure typically associated with getting a reservation on Feb. 14th, Duke Moscrip, founder of Duke's Seafood & Chowder, created the 12-day menu to allow everyone a chance to celebrate and, according to Moscrip, have no excuse not to.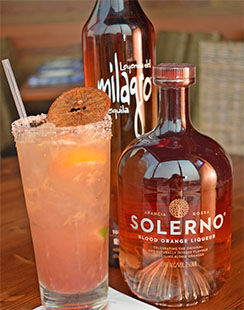 "Getting a reservation at a fine dining restaurant on Valentine's Day is a tough hurdle," Moscrip says. "So why not give couples more options? I created the 12 Days of Valentines at Duke's so every couple that wants to celebrate in style has a chance to do that without worrying about making it happen on only one night. Plus, if there is one event to extend beyond one day, its Valentine's Day; the day to celebrate relationships. Duke's exclusive menu includes specials on its wide variety of Pacific Northwest wines as well as its artfully crafted cocktails. The featured cocktail, Blood Orange Margarita, handcrafted with Milagro 100% Agave Reposado tequila, Solerno Blood Orange liqueur, fresh lime and orange, homemade sour, red sugar and salted rim, on the rocks.
Duke's dinner menu is as saucy and spicy as its flavors. According to Moscrip, "We loaded up our special 12 Days of Valentines menu with fun, love-oriented names in the style of the classic Valentine's heart candies, just to add a special twist. I love creating an experience and this menu is so strong, I'm swooning about it myself."

Fueling love's flames (as Executive Chef Bill Ranniger flames a dish), start your dining experience with Love Me Forever Steamer Clams or Fill Me With Love Seafood Nosh Bite. Move on to a host of entrees crafted for the season of love:
"Tempting &Tantalizing" Thai Ginger Blue North True Cod
"Divine" Duke's Favorite Stuffed Whitefish
"Share It Together" Blueberry & Goat Cheese Salmon
"You Mean the World to Me" Crab 'Un' Cake Mixed Grill
"Please Me Again and Again" Manila Clam & Prawn Linguini
"I'll Take You To Heaven" Crab & Prawn Gnocchi
Featured wines are from Browne Family Vineyards and include the Sauvignon Blanc, Rose, Chardonnay, and Cabernet Sauvignon. "Valentine's Day renews our relationships with the people most important to us, reminding us of what really matters," says Moscrip. "By celebrating for 12 days, we want to spread that warmth beyond just one day a year."
For reservations or more information, visit the website at www.dukesseafood.com.
About Duke's Seafood & Chowder:
Duke's Seafood & Chowder began in Seattle, Washington in 1977 as Duke's Bar & Grill. Founded by Duke Moscrip, the company now owns and operates seven restaurants in the Puget Sound area that focus on wild, sustainable, organic, hormone and antibiotic-free, and natural ingredients. Today it remains family owned and operated with son John Moscrip as a partner. Crafting the menu is long-time Executive Chef "Wild" Bill Ranniger, renowned for both his culinary skills and wild creativity. Beyond its four-decade history, Duke's honors for its food and practices include three-time winner of The Seattle Chowder Cook-Off. A leading force in sustainable food, Duke's received the highest seafood restaurant rating in the State of Washington by Fish2Fork and is among the first restaurants in Seattle recognized with a 100 percent volume compliance sustainable seafood rating from Smart Catch, a program designed to promote sustainability and raise consumer awareness regarding sustainable seafood options.
Contact: Cheryl Engstrom, Engstrom Public Relations, 425-487- 0682, cheryl@engstrompr.com