SEATTLE, WA (Feb. 28, 2019) – Why do parents seek out sustainable and organic food at home, then take their children to fast food restaurants where sourcing is, well, questionable at best?...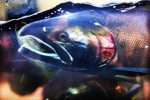 Seattle Times Editorial
By Duke's Seafood & Chowder Salmon and the Pacific Northwest used to go hand in hand, right? Not anymore. Back in the early 1900s, hundreds of thousands of naturally spawning salmon and...
Seattle Times
Seattle Times – Pacific NW Magazine By Bethany Jean Clement DUKE MOSCRIP CAUGHT onto the idea of highest-quality, sustainable wild seafood about 30 years ago — that is, decades before it became the...