"Most people have no idea we source our clams this way," says Duke Moscrip, founder and co-owner of Duke's Seafood.
Here at Duke's Seafood, we love our clam chowder, and if the 360,000 servings we dished up in 2022* are any indication, you love it too! It's a recipe with a long and wonderful history—one that started with Duke's grandfather and chocolate éclairs.
But this history almost came to a screeching halt when we couldn't find the right clams.
Back before sustainability was hip, Duke went on a quest for better clams. Better tasting. Fresher, with that delicious, clean fragrance of the sea. He wanted zero chemicals. Zero preservatives.
That was a tough order because 25 years ago, nobody worried about that stuff.
Duke tried local clams. They were certainly fresher, but Northwest clams are too small for the volume we needed to make chowder. Duke called every seafood distributor, but none of them offered a "clean clam."
Undaunted, Duke finally found one company on the Eastern seaboard. Seawatch not only offered a preservative-free product, but their harvesting methods actually improved the health of the ecosystem.
We swooned.
"The taste was unreal," Duke says. "With a fragrant, wonderful scent. Like the ocean. Clean and fresh." These clams, known as "Surf Clams" by locals, are huge compared to most types found in the northwest, so offer the volume we needed in our chowder. "But when we switched to clean clams, the flavor was so ramped up that we had to tweak our chowder recipe. We upped the bouquet of the herbs to match the more prominent clam taste. The result is a perfect combination of flavors that melt in your mouth."
These surf clams are still harvested sustainably today and have been the superstar in our award-winning chowder for 25 years.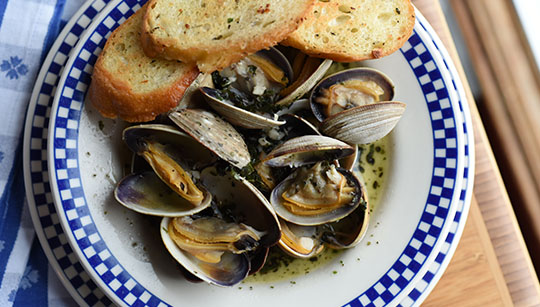 At Duke's Seafood, though we do fawn over our chowder, we've had a longstanding affair with local Manila clams too. Manila clams are so good they need only a bit of white wine, butter, and fresh herbs to make them otherworldly.
"Manila clams are almost a little bit sweet, with so much flavor. The key is getting them to the backdoor of the kitchen really fast. They need to be fresh. This is our priority with local clams and it's made a huge difference in their flavor. Not everyone is diligent when it comes to this, which is a huge mistake."
We've been partnering with local harvesters Pacific Seafood for decades, people who care as much about a robust product as they do about protecting the waterways and beaches that grow healthy clams. It's a slam dunk for us at Duke's Seafood because we wouldn't do business any other way.
"Clams in the Pacific Northwest are a big deal," says Duke. "There's a long history here, and on the menu, they've always been a big winner."
For the next month at Duke's Seafood, you can taste this deliciousness for yourself in two ways: our Steamer Clams appetizer featuring local Manila clams in a white wine, butter, and garlic broth with rosemary bread toast for dipping, and our clam and wild shrimp fettuccini in a delicious herb and butter reduction sauce with bacon, caramelized bell peppers and Walla Walla onions.
And of course, if you haven't tasted our award-winning clam chowder, we invite you to remedy that clamity next time you drop in. See you at Duke's Seafood!