Food is not the only attraction at Duke's Seafood. John Moscrip, co-owner and COO of the restaurants, understands that and seeks our dynamic and exclusive ways to spice up his beverage program. While 15-25 percent of the dinner menu items sold are limited-time offers (which is actually well above national average), the beverage menu is constantly changing and offering new or limited time only cocktails, wines, beers, tasting events, and specials to add greater variety.

"The recipe that's worked for our customers is gradual change but with enough innovation to stay ahead of the game," said John Moscrip, when reflecting on the restaurant's evolution over the last 40+ years.
Most significantly, the beverages need to mirror the healthy approach of Duke's Seafood menu items. "One of the most changes (and challenging ones, from a sourcing perspective) was the removal of high fructose corn syrup from everything on the menu – you won't find Coke or Sprite, or even a standard tonic water here," he adds. Instead, John sought out Seattle Soda Company to provide HFCS-free ingredients.  "We did not take the easy route here and it took us some time to source, find new partners, etc.  But, our guests take notice." He notes that not only are harmful ingredients removed, but the taste is improved.
Here's a peek at some of the other innovations from Duke's Seafood, most specifically within its beverage program:
A Timeline of Liquid Innovation
1977 – The first Duke's Chowder House opened for business in Queen Anne and became a legendary bar haunt for the who's who of Seattle throughout the 80s.
1979 – Duke served ice cold beer by chilling beers in an aluminum, iced-filled box each night to keep bottles at 33 degrees instead of the 38-48 degrees served at most other bars at that time.
1980 – While other restaurants offered glass pours from Gallo and Cribari, lower-end wineries with a screw-top cap, Duke's was the first to offer high-end glass pours with a cork finish. Selections included Sorve and Vouvre varietals from Italy and France, Cabernet and Chardonnay from California, and Chateau St. Michelle's signature Johannesburg Riesling.
1999 – Duke began garnishing its Bloody Mary with two Wild Pacific Mexican Prawns, a green olive on a skewer, and pickled asparagus long before bacon and cheeseburgers were adorning Bloody Mary cocktails. To this day, its "Bloody Bloody Mary" is the number one best-selling beverage on the menu.
2008 – Duke's was the first restaurant/bar in the Northwest to go through the Personal Selection program at Woodford Reserve in Versailles, KY, and have blended a total of 10 batches of WRPS and 2 WR Double Oaked Single Barrel Selections.
1981 – Kamikaze Cocktails were first invented at Duke's, incorporating equal parts lime juice, triple sec, and vodka, shaken over ice and served straight up.
2012 – Duke was one of the first restaurants in the Seattle market to debut a true Moscow Mule, complete with Tito's vodka and 100% copper mugs, identifying the science behind the great taste – the copper reacts with the acidic lime juice, resulting in a sharper, crisper taste than in a traditional pint glass and also using the "Original" Cock-n-Bull Ginger Beer (1946)
2001 – Spirit infusions were created at Duke's Seafood. Classic offerings have always included black pepper/roasted garlic/roasted bell peppers/onions/lemon infused vodka for its "Bloody Bloody Mary" and lime/mint/cucumber infused vodka for its Cucumber Mojito.
2014 –  High fructose corn syrup is removed from the restaurant company-wide. All carbonated beverages use Seattle Soda Company and various other sodas and organic lemonade and juices
Crafting Beer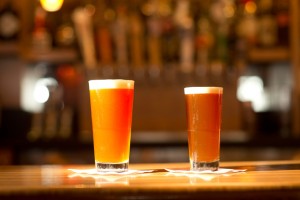 Duke's Seafood focuses on local craft breweries. Dating back to the early 90's, the restaurant was among the first to incorporate craft brewers into its tap lineup. The restaurant discovered Georgetown's Manny's Pale Ale and Mac 'n Jacks long before they became the highly popular offerings seen at nearly every bar in town.
Throughout the company, Duke lets each location select three to six of its own rotating tap handles based on local breweries and customer interest.
For the Love of Wine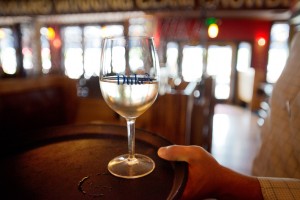 "At Duke's, we want to make it as easy as possible for people to experience and enjoy new wines, especially the burgeoning local wine market" said Moscrip.
Nearly all wines on the menu are from the West Coast, with nearly half from Washington, especially bottle only sections from "small Washington wineries" producing 4,000 – 20,000 cases annually, like Sparkman Cellars, Mark Ryan Winery, JM Cellars, and Darby Winery.  International offerings include Malbec from Argentina, Prosecco from Italy, and a Sauvignon Blanc from New Zealand, as these are popular styles of wine that aren't readily available from Washington grapes. Here are some special and regular features:
Half price bottles every Monday night, every Duke's Seafood location.
Veuve Clicquot special for just over $9
Glass pours offered in 6-oz. and 9-oz pours
Duke's Seafood wine dinners for between 45-70 guests feature a winery partner and 4-5 paired courses for a between $60-$85. Spirits
Our approach to bartending is service-oriented – 70-80% of the bartenders have worked their way up from serving. Experience is key. It's all about generous pours, good quality, and professional bartenders.